Well hello hello, looks who's back! Remember me? I sure hope so :) I'm sad to say that I am back from Louisiana but the good news is I'll be back to regular blogging eventually soon.
I know you're probably expecting some big fancy schmancy New Orleans recap, but that's going to have to wait a bit because this girl is too tired to load all those pics right now. So today I am linking up for
Greek is Greek
to talk about my days as a sorority (
sa-rar-ity...have you seen that video? if not you're probably thinking wtf
) girl.
During my time at LSU, I was a ZTA! Why, you might ask? Well, because I like to party. And that is exactly what we did. Along with a bunch of other "do good for society" activities. It was a rough life as a college student I tell ya ;) From toga exchanges, spring break trips, formal, and never ending recruitment week and bid days. If I could do it again, I'de do it the same!

It wasn't until my sophomore year in college that I decided to rush. I really had no interest my freshman year when all of my friends were rushing, but after seeing all the fun they were having and attending many events throughout our freshman year, I knew I wanted to be part of greek life too. I met some amazing ladies, had the best big, supported our philanthropy (breast cancer awareness and education), and grew so much as an individual. I can honestly say I am not sure if I would be where I am now if it weren't for Zeta. Being in a sorority kept me on tract and pushed me to be the best I can be and never give up. Sure we partied and had our fun, but it's all about the balance that enabled us all to be successful and where we are today.
And now to overload you with some of my favorite pictures from back in the day! I can't believe it's already been over 2 years since I was part of all of this. Time, you can slow down any second now!
Those were the good days! The ones where my only concern in life was to make sure I wasn't drinking in my letters and to find a fraternity pledge DD to drive us home. Good times :)
Were you in a sorority!? Link up and share!
And if you were a ZTA, please say hi! So far I've only come across one other Zeta blogger!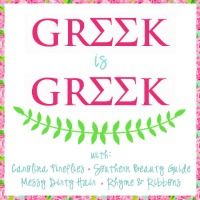 ZLAM!
Labels: Greek is Greek linkup, greek linkup, sorority girl, sorority linkup, zeta, zeta tau alpha, zta