Woohoo!! It's Friday y'all and I am so pumped!!
Today I am guest blogging over at
Overwhelmed By Grace
for Travel Week and I'm talking about the biggest, most fun, party city that I like to call my hometown. Yep, you guessed it ...
New Orleans
!! So be sure to head on over to
Kelsea's blog
and get your Friday Southern Fix! Because if NOLA doesn't sound interesting to you... well then... you just don't know a good party!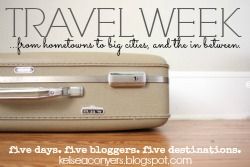 I also just want to take a moment to thank all of my readers who follow along with this little blog because last night I reached 100 followers!! Y'all have no idea how happy that made me! It was just a little over 3 weeks ago when I had a total of about 2 followers and honestly didn't even know if anyone was out there reading! But here you all are :) So again, thank you thank you!
Because I'm in a giving mood, don't forget to head on over to
Bonnie's blog
for the giveaway I'm sponsoring! If you like Target, Etsy, Sephora, Starbucks, or Amazon, you won't want to miss this!
And it wouldn't be Friday without the perfect jam that makes you want to get away from your desk and back that azz up, now would it!? Here's to the weekend :)
Labels: followers, giveaway, guest blogging post, new orleans